Kirsten and Hunter are undoubtedly one of my favorite couples of 2015. When I first met them, they talked mostly about how they wanted to create a fun party for their friends and family – a vision I could definitely support. They decided on a newer venue – The Gadsden House – which is in the heart of Downtown Charleston. Not only is this renovated historic property beautiful, but its added perks of an ornate courtyard and on-site bridal suite make it a unique event hosting space that embodies the best of Charleston.
Their ceremony was an intimate affair in the courtyard. During cocktail hour, the space was flipped to provide additional seating for the reception. A perfect idea to maximize the space's potential and to accommodate the additional 100+ guests attending the celebration. The party truly kicked off when local band, The Midnight City, started their set. I've had the pleasure of listening to them acoustically during happy hour at Rita's on Folly, but in a wedding setting their ability to energize the crowd created a lively atmosphere perfect for photographing.
As the party at The Gadsden House winded down, Kirsten and Hunter departed through a barrage of tossed potpourri to hop on a rickshaw to take them to their after party at Trio. The newlyweds asked me to tag along for the beginning of the after party. When they asked me about this months earlier, my initial response was, "You know that's probably going to be a lot of blackmail photos of your friends?!" But it was a blast documenting photos in the club. There may have been a bottle of champagne accompanied by sparklers passed around – but I'll leave that to one's imagination as no after party pics are included in this post.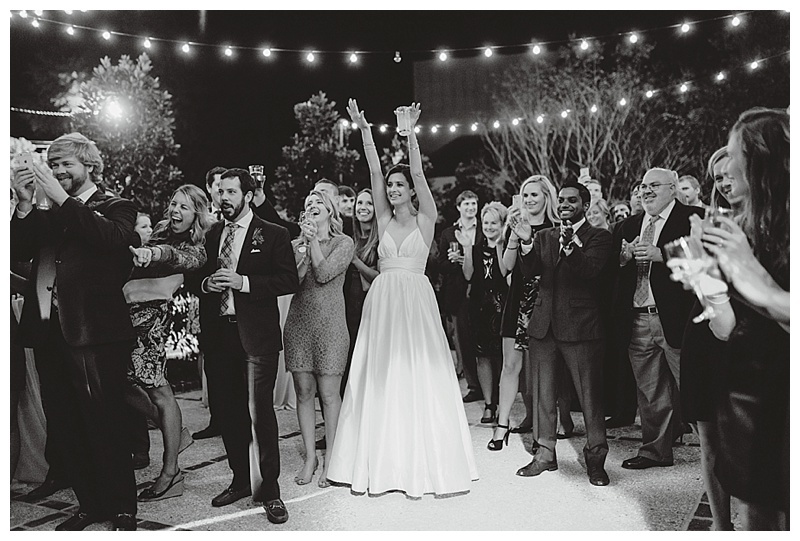 Wedding Team
Venue: The Gadsden House | Event Coordinator: Kathleen with KSH Group | Bridal Boutique: Fabulous Frocks
Bridesmaids' Dress: Bella Bridesmaids | Bridal Hair & Makeup: Lashes & Lace | Floral Design: OK Florist
Caterer: Cafe Catering | Ceremony Musician: Luke Cunningham | Band: The Midnight City
Lighting: Eventhaus | Rentals: Ooh! Events | Rentals: Snyder Events | Cake Designer: Honey's Baking
Bridal Gown Designer: Kate McDonald | Getaway Transportation: Charleston Rickshaw